COVID-19
The 2020 edition of the Creative Intensive will inevitably be different. We will only be able to accept people based in Ireland and Northern Ireland, who have been following guidelines. If government guidelines change overnight, as they have in the past, it may be cancelled at short notice. In this case, we will revert to an online-only version.
We will not be able to accept under 18s this year. We will probably only have Chantal McCormick and Lee Clayden as tutors, and reduced numbers.
All participants will have to act like and become a "household" for this to work. That means taking extra precautions in the two weeks before the programme starts. It also means not returning home on the weekends nor being in close contact with other people outside the programme. As Chantal says, "art is healing", and the Creative Intensive can't work with social distancing.
There will be no public performance at the end of the Creative Intensive. We will still produce a professional 3-camera video of everyone's performance.
The Creative Intensive is an annual three week training on aerial technique and creativity. This training program for professionals was designed for aerialists who want to work on improving their technique and produce aerial acts, and also for dancers who want to get more aerial training and create an aerial dance solo. The course is hosted by tutors Chantal McCormick and Lee Clayden from Fidget Feet Aerial Dance.  A third international tutor is usually also brought in.
The next announced dates are: November 23rd to December 12th 2020
PLEASE NOTE THE INFORMATION REGARDING COVID-19 ABOVE.
There will be a public showing in the IACC of the work created, on the last day of the intensive.
Once you have read all the information below, you can apply for the Creative Intensive here. The application deadline is:  20th September 2020 and applications are open.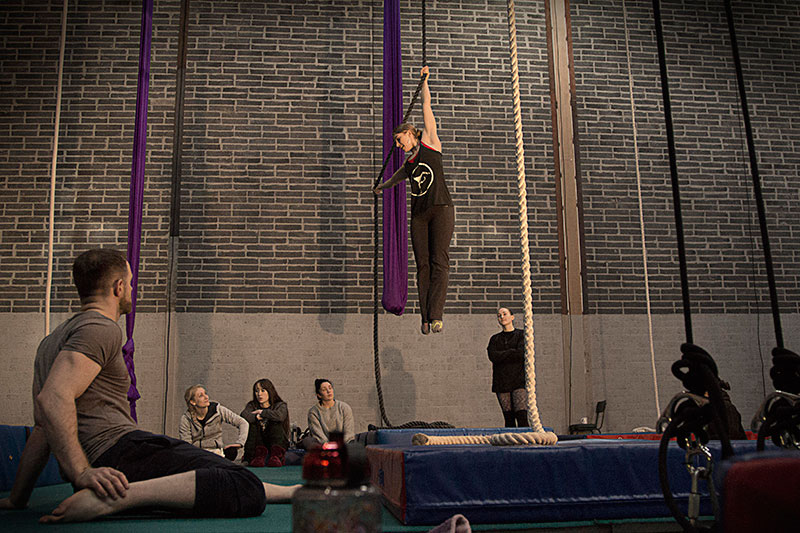 The course is designed for intermediate through to professional level students. We offer contemporary dance classes, stretching, strengthening and conditioning, aerial technique classes in rope, fabric, hoop, and trapeze. We also offer creative labs, one to one mentoring from the 3 tutors, and rigging basics.
We also allow for Sunday open training; during this open training it is possible to book the coach for one to one at an extra cost. We will have lunch-time talks on act selling, budgets, insurance etc. The work will be geared towards the creation of a piece to be filmed / performed at the show. We will be offering training towards show-making, working with professional riggers, lighting and sound technicians, costumes and make-up.
The course ends with a public performance of the acts in the IACC on the last day. Each performance is filmed with a professional set-up of three cameras and audio. You'll receive the footage after the intensive, so that you can use it for show reels etc. All are welcome, so invite family and friends. The IACC will invite funders and theatre managers.
Costs
This course is funded by the Arts Council to support higher-level training in Ireland.
One scholarship and eight half fee bursaries (€500) for Irish born or Irish based aerial circus performers and 7 full price spaces @ €1000 each. That's a total of 16 places. If you receive direct funding from the Arts Council for this programme, you cannot receive a bursary as it would be double funded. If you apply for indirect funding, e.g. travel and accommodation, then you may still receive a bursary.
Duos or groups are generally charged as two people, as they need double the mentoring time. It's possible to negotiate this.
Once you are offered a place, you must pay a deposit of 50%. If you cancel within one month of the start date, you must pay the full fee regardless. This is due to multiple late cancellations in the past. The international panel will make the decision within one month, and all applicants will be notified whether they were successful.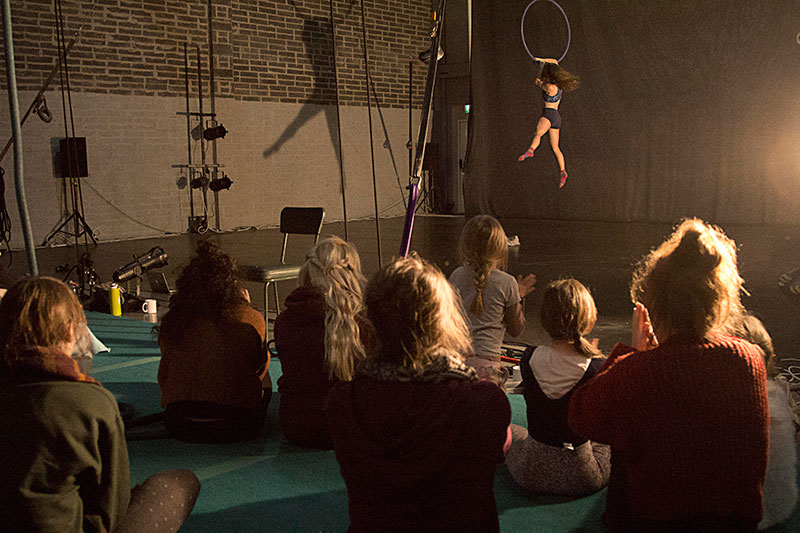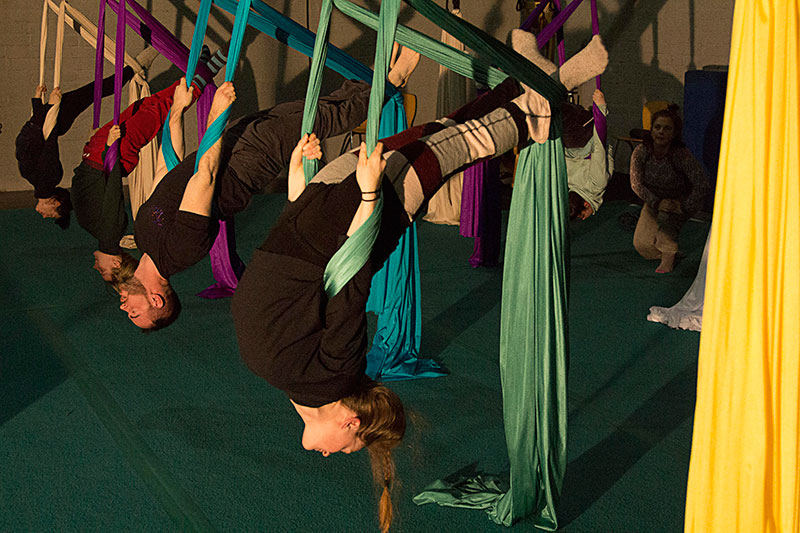 To Apply
For the program aerialists need to bring their own apparatus and a proposed act; which can be at any development stage. We can cater for solo, duets and group pieces. To apply you will need :
Your general information
An audition video
A C.V. and a reference
Your medical information
Parental/guardian consent if you are 16-18yrs.
To apply for the bursary you will need to provide
A letter of application explaining your suitability for the bursary
 Proof of Irish residency or nationality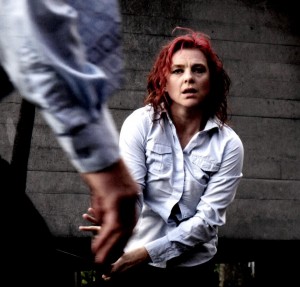 Chantal McCormick
Fidget Feet
Chantal Mc Cormick trained as a dancer and choreographer at the London School of Contemporary Dance. After graduation she became interested in aerial circus and trained at Circus Space, London. Chantal has toured extensively with established dance and circus companies in the UK from 1999-­‐2008. The company Fidget Feet was founded in 2004 by Chantal (Donegal) and her husband Jym Daly (Cork). Chantal has directed, choreographed, and performed shows with FF including; Wired and Free, Fairies Tail, Remember Her, Madam Silk, Raw, Hang On, Catch Me, Fire Birds and Elves and the Shoemaker she was recently invited along with FF to choreograph all the aerial work and perform and collaborate with CoisCeim in the acclaimed RTE, Centenary. Chantal is also the Artistic Director of Irish Aerial Dance Fest and professional development manager at the Irish Aerial Creation Centre.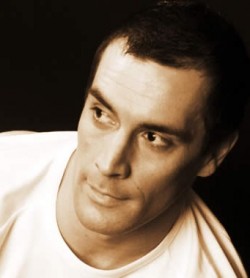 Lee Clayden
Fidget Feet
Lee Clayden started dancing at the age of 21 and graduated from London Contemporary Dance School with a 1st degree. Lee's first encounter with Fidget Feet was on the production RAW, in 2008. He is now associated artists with Fidget feet and is one of the company's main performers, teachers and riggers. He has worked on The Snow Queen, Catch me, Hang on, Firebirds, A Fairies' Tail, The Elves and the Shoemaker and most recently performed as the Raven in RTE, Centenary. In 2013/14 Lee worked on the company's upcoming production, The Second Coming.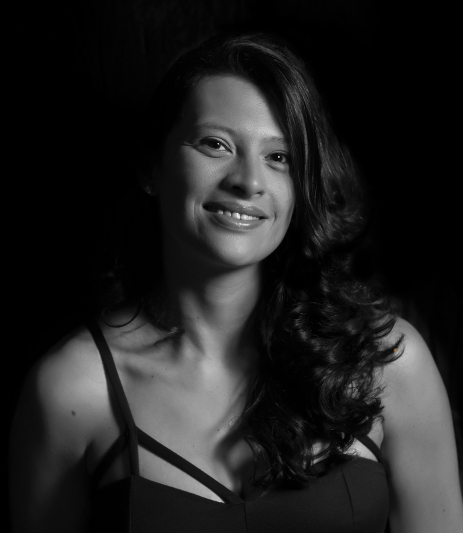 Carolina Cabañas
Danzaire
Carolina started her career as a dancer when she fell in love with aerials. She has taught and developed this genre for 17 years. She has studied and worked with many great dance and aerial dance companies and directors, including Rob Tannion, Fidget Feet, Roberto Magro, Rogelio Lopez, Kitsou Dubois, Chloe Moglia, Juliana Neves, Ilona Jäntti, Eleonora Dall Asta, Fred Deb, Kate Lawrence, Lindsey Butcher, Ana Prada, Julio Revolledo, Colegio del Cuerpo, among many others. She founded the first aerial dance school and company in Costa Rica and she created the only teaching program for aerials in Costa Rica. She ran the 1st Latin American aerial dance fest in 2016. Considered a precursor of this genre in Costa Rica, she keeps teaching, searching for improved techniques and keeps encouraging the professionalism for the aerial dance in Costa Rica.
Trying to describe the Irish Aerial Creation Centre's Creative Intensive, is like trying to describe the ocean to someone who has never seen it.  It is achingly inspiring, stunningly beautiful and for seeing it you are forever changed, but finding adjectives to do it justice is a daunting, if not impossible task. Nevertheless, I will try.
The Creative Intensive is a holistic immersive exacting adventure that allows you to truly access your creative potential and to explore it in ways you never imagined possible. Once you begin you will be overwhelmed by the nurturing atmosphere promoted by the exceptional mentors and fellow participants. You are encouraged to challenge yourself technically, learn earnestly and create assiduously. The expertise you have access to is incomparable but most of all it is the caring indefatigable humans you get to know that make it truly special.  While at times it may be demanding, both physically and emotionally, it is the sort of exertion that breeds something profoundly precious.
But most of all, it is the gift of time. Time for you to undeniably indulge and luxuriate in your own creative undertaking, wherever you are in your practice, and give yourself permission to play.
Although it may seem cliché, I mean every single word…you will be forever changed and so incredibly grateful for this experience.
Jennifer de Brún
If you are looking for a space to learn some new tricks, or head on a circus holiday to relax – don't come to the Creative Intensive.
There are plenty of other retreats where you can lie on a beach as well in Mexico or Bali (I've been on quite a few). The Creative Intensive isn't for that. It's for the harder things, the deeper things. It's a space to explore movement quality, and artistic voice. It is somewhere you can try new things, try to understand how to translate a thought into something someone can watch. It's that which I've been unable to find anywhere else in the world, a program that will hold space for you and let you develop yourself instead of telling you what to be and how to move. 
From the little things (dance warmups that I still miss every time I start training, spontaneous group massages, or the crazy way Chantal can enter a room), to the big things (trying harness work for the first time, discovering lyra isn't the bane of my existence, or building an act that is so much different than anything I'd done to date), to the unparalleled community (witnessing someone else's discoveries, being there for a hug, or just being next to them), there was nothing I would have changed. And I cannot emphasize how rarely that happens for me.
If you are on the fence, or wondering if its worth it to make the trip – for me I can only say it was more than I expected, and I hope you make the same choice. I'm reminded of the experience every time I touch an aerial fabric, it changed my relationship with the apparatus and the work in a way I'll never forget.
-Sean Heisler, San Francisco