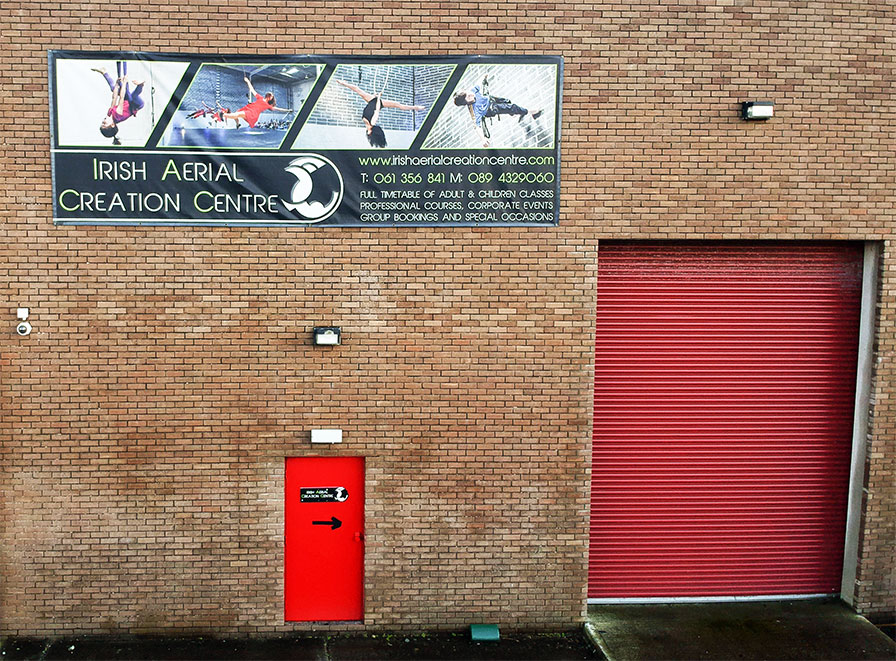 About the IACC
The Irish Aerial Creation Centre (IACC) was always the dream of Fidget Feet Executive Artistic Director, Chantal McCormick. Chantal, from Donegal, started Fidget Feet with musician/media artist Jym Daly from Cork in 2004.  The company has since become one of the leading aerial dance theatre companies in Ireland, making work at home and touring work nationally and internationally. Fidget Feet sourced funding from LEADER Regional Development Program to conduct a feasibility study on the IACC project in 2011. They received an Arthur Guinness Project Award (2013) and established a partnership with the Irish World Academy of Music and Dance (IWAMD). Fidget Feet also made partnership with Limerick City and County Council, performing as part of City of Culture in 2014 and moving to Limerick. Finding a warehouse, Fidget Feet finally opened the Irish Aerial Creation Centre to IWAMD students in February 2015. The IACC was set up as a separate legal company to Fidget Feet, and with funding from the Irish Arts Council ran its first professional residency in Summer 2015.
The Space
The Irish Aerial creation centre in the Old Burlington Industrial Estate,  Gillogue, Corbally, is the first and only purpose-built aerial dance centre anywhere in Ireland.
We have over 625 square meters of space dedicated to nurturing dancers young and old.
In 2016 the IACC was also awarded a capital JP McManus Benevolent Fund for circus equipment. Then In 2017 IACC was awarded a capital grant of €350,000 from The Department of Arts, Heritage, Regional, Rural and Gaeltacht Affairs. This project is a flagship project with match funding from LCCC. You can read more about it on our Projects page.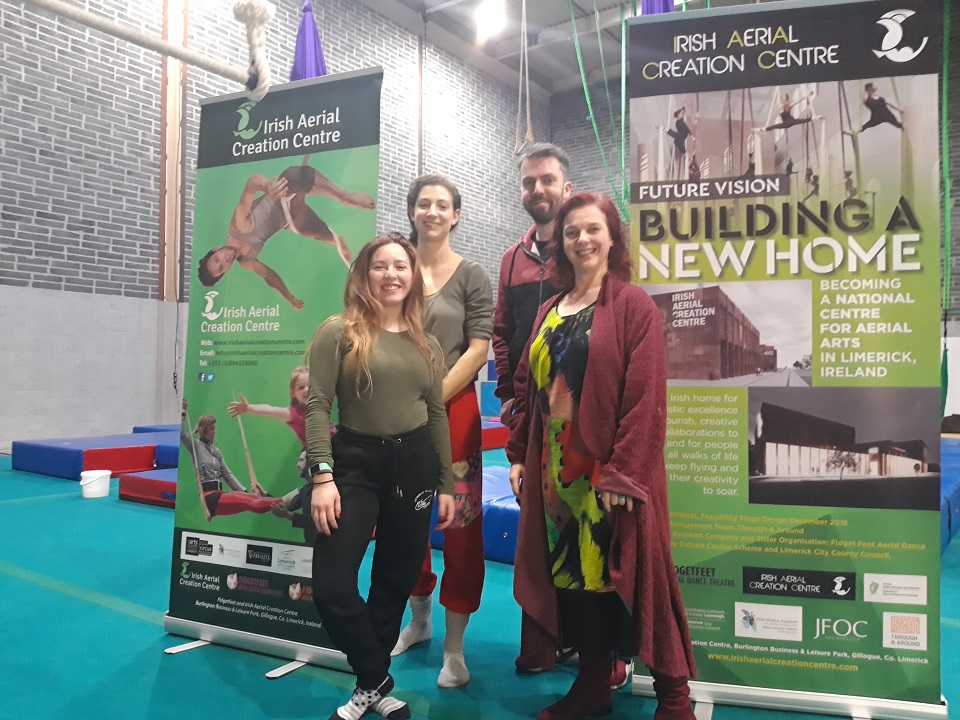 The People
Brian Rafferty – Managing Director
Chantal McCormick – Executive Creative Director
Paul Thompson – General Manager
Sara Granda – Head Teacher
Irish Aerial Creation Centre Board
Chairperson: John Stapleton:  John is a retired auctioneer with over 40 years experience. He has served as President of Junior Chamber Limerick, Chairman of Local G.A.A club for eight years, Board member of Limerick Trust, Limerick Show Society and Limerick County Board G.A.A to mention just a few. Appointed 26 January 2022.
Secretary: Deirdre Mac Mahon: Deirdre is a mother of 3 and carer to her son with special needs. She is also the Host of NeighbourFood at the Milk Market. She has keen interests in local food and the arts. A founder member of The Urban Co-op, she sat on its board for six years, including over 3 years as Chair. She is currently the Chairperson of Opera Workshop. Appointed 26 January 2022.
Treasurer: Barbara Gardiner: Barbara is a mother of 3 children that have attended the IACC since it has opened. She has been on the board since its inception. Appointed 2016.
Aideen Dunne: Aideen is a leadership coach and trainer and helps transform people to have the impact they want as leaders. She is one of the most respected and influential development coaches for senior managers. She worked with IBM for 33 years in IT, and HR. Appointed 26 January 2022.
Claire O'Shaughnessy: Finance Division Manager Area: Finance & Accounting Claire O'Shaughnessy is the Head of the Finance Division of the University of Limerick. She provides the financial leadership and professional financial services which supports the University's mission of achieving excellence in teaching, learning and research. She is responsible for adherence to regulatory governance and legislation, providing a broad portfolio of financial services and maintaining financial stability.
Kerstin Mey: Born and educated to PhD level in Berlin, Germany, and with a background in Visual Art and German language and literature, Kerstin has worked in higher education for over 25 years in the Germany and the UK. Kerstin has recently taken up the role of President at the University of Limerick, Ireland. A sustained interest in art in the public domain, socially engaged creative practices and arts-based research have informed her sustained research endeavours. She has served in inter/national advisory bodies such as CREST (UK); CHEAD (UK) and the Austrian Science Board. Appointed August 2018.
Colette O'Halloran: Appointed September 2021.
Jen Maynard: Appointed August 2023.
Cian Ryan: Appointed March 2023.
There is a Capital Project subcommittee of John Stapleton, Brian Rafferty Managing Director, and Chantal McCormick Creative Director.
Governance
The Irish Aerial Creation Centre is committed to the Charities Governance Code.
The Irish Aerial Creation Centre's policy aligns with the Arts Council's Paying the Artists policy, and we are committed to the fair and equitable remuneration and contracting of artists.
The Irish Aerial Creation Centre is committed to the principles of good fundraising.
Documents: