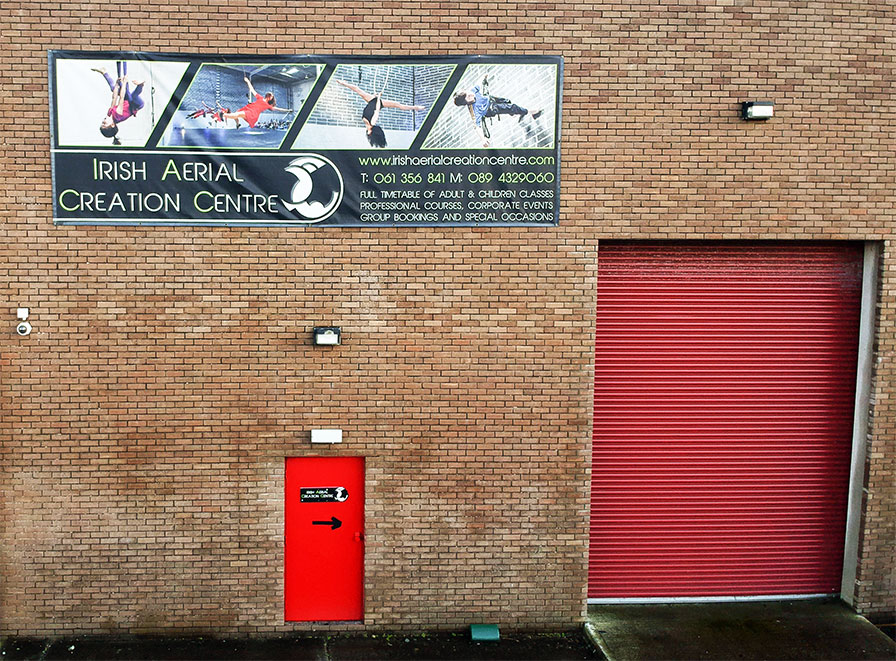 About the IACC
The Irish Aerial Creation Centre (IACC) was always the dream of Fidget Feet Executive Artistic Director, Chantal McCormick. Chantal, from Donegal, started Fidget Feet with musician/media artist Jym Daly from Cork in 2004.  The company has since become one of the leading aerial dance theatre companies in Ireland, making work at home and touring work nationally and internationally. Fidget Feet sourced funding from LEADER Regional Development Program to conduct a feasibility study on the IACC project in 2011. They received an Arthur Guinness Project Award (2013) and established a partnership with the Irish World Academy of Music and Dance (IWAMD). Fidget Feet also made partnership with Limerick City and County Council, performing as part of City of Culture in 2014 and moving to Limerick. Finding a warehouse, Fidget Feet finally opened the Irish Aerial Creation Centre to IWAMD students in February 2015. The IACC was set up as a separate legal company to Fidget Feet, and with funding from the Irish Arts Council ran its first professional residency in Summer 2015.
The Space
The Irish Aerial creation centre in the Old Burlington Industrial Estate,  Gillogue, Corbally, is the first and only purpose-built aerial dance centre anywhere in Ireland.
We have over 625 square meters of space dedicated to nurturing dancers young and old.
In 2016 the IACC was also awarded a capital JP McManus Benevolent Fund for circus equipment. Then In 2017 IACC was awarded a capital grant of €350,000 from The Department of Arts, Heritage, Regional, Rural and Gaeltacht Affairs. This project is a flagship project with match funding from LCCC. You can read more about it on our Projects page.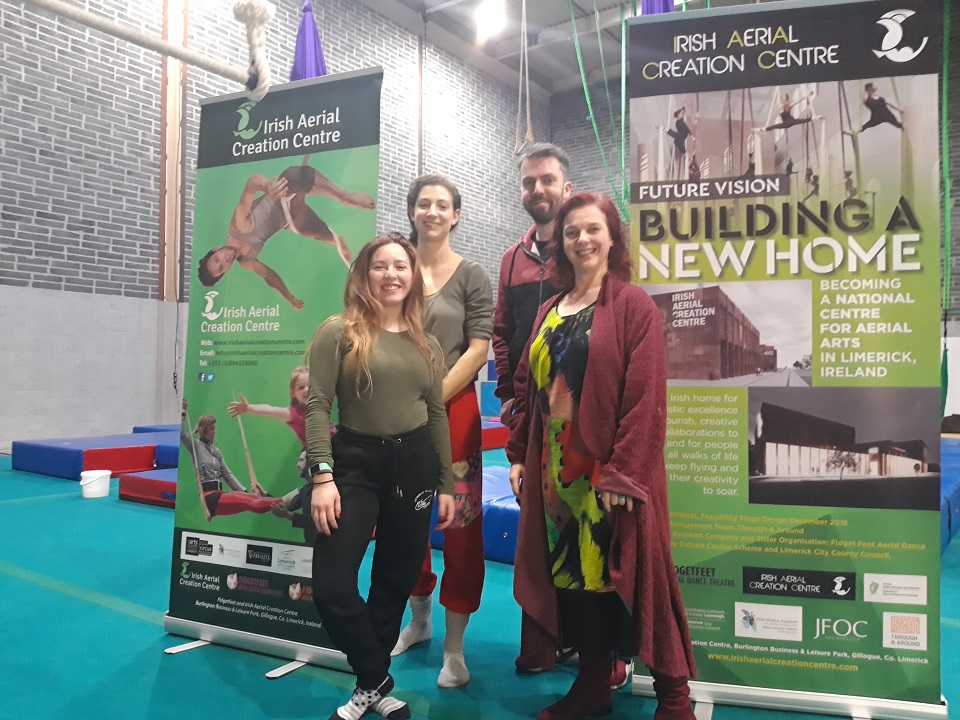 The People
Brian Rafferty – Managing Director
Chantal McCormick – Executive Creative Director
Paul Thompson – General Manager
Sara Granda – Head Teacher
Irish Aerial Creation Centre Board
Chairperson : Sarah Hartnett: Funding Development Area: Marketing & Fundraising Sarah Hartnett is Funding Development Manager of the University of Limerick Foundation. Sarah joined the UL Foundation in January 2003, having previously worked in business development in the recruitment industry and account management in the financial services industry. Sarah has also spent time in commercial roles in Australia and Japan. She is a University of Limerick graduate, having completed a BBS (with Japanese), where she specialised in Marketing. Sarah develops and manages funding projects in the UL Foundation, including student scholarships through corporate and private donors; alumni direct marketing initiatives; and fundraising events. She is also responsible for marketing and the production of external communications.
Josephine Mangan: Theatre & Festival Director Area: Festivals & Performing Arts Jo Mangan is CEO/Artistic Director of The Performance Corporation, a company she co-founded with Tom Swift in 2002. Since 2016 she is also Director of Carlow Arts Festival and Chair of the National Campaign for the Arts since 2013. In 2013 she founded and curated the BIG House Festival – Irelands first ever site-specific arts festival, awarded the ERIC for Best Irish Festival 2013. She was Artistic Director of 2014 Bram Stoker Festival Dublin, also winner of the ERIC for Best Irish Festival. Other work includes Creative Consultancy for organisations including the Abbey Theatre and National Museum of Ireland, curating the Theatre Forum conference in 2015 and working as International Programmer for Limerick City of Culture, where the highlights of her progamme included Royal de Luxe. In 2011/12 Jo was awarded the Jerome Hynes Clore Cultural Leadership Fellowship part of which saw her working at the Barbican Arts Centre as well as the Irish Department of Arts.
Claire O'Shaughnessy: Finance Division Manager Area: Finance & Accounting Claire O'Shaughnessy is the Head of the Finance Division of the University of Limerick. She provides the financial leadership and professional financial services which supports the University's mission of achieving excellence in teaching, learning and research. She is responsible for adherence to regulatory governance and legislation, providing a broad portfolio of financial services and maintaining financial stability. 6. Name: Jim Doyle Occupation: Director Area: Building Construction & Restoration
Jim Doyle: Founder and CEO of Beltron, a specialist construction company involved in the restoration, preservation and automation of church & cathedral bells, their supporting structures and bell towers, to conservation standards. From 2000, the company diversified into communications & media, specifically radio and video transmission. In 2013 BrightSky was formed to include videography and vision mixed live streaming of conferences, summits and events, specialising in the Medical and Tech area.
Kerstin Mey: Born and educated to PhD level in Berlin, Germany, and with a background in Visual Art and German language and literature, Kerstin has worked in higher education for over 25 years in the Germany and the UK. Kerstin has recently taken up the role of Vice President Academic Affairs and Student Engagement and Professor of Visual Culture at the University of Limerick, Ireland. A sustained interest in art in the public domain, socially engaged creative practices and arts-based research have informed her sustained research endeavours. She has served in inter/national advisory bodies such as CREST (UK); CHEAD (UK) and the Austrian Science Board.
Barbara Gardiner: Barbara is a mother of 3 children that have attended the IACC since it has opened.
Governance
The Irish Aerial Creation Centre is committed to The Governance Code: Principles of Good Governance. Our details can be found on The Governance Code registry of organisations who are now 'Compliant'. Click here to view the registry.
The Irish Aerial Creation Centre's policy aligns with the Arts Council's Paying the Artists policy, and we are committed to the fair and equitable remuneration and contracting of artists.